Get More from Your IT Help Desk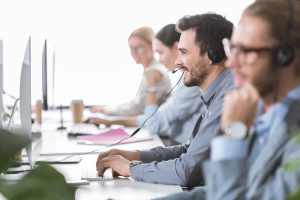 Do you not have the IT resources to get help with every technical issue you and your staff encounter? Sounds like you need IT Help Desk support available to you more often. Panurgy offers IT Help Desk services as part of comprehensives IT services package, and that means you can get the assistance when you need it without scrambling to solve issues, you're unprepared to tackle alone.
Panurgy's IT help desk support will be available when you need it. We're not going to make you wait in an IT crisis. Our experts will deliver IT support to you when you need it and provide quality solutions in a timely manner. You can trust the expertise of our IT help desk and the support we provide.
Keeping compliance with every regulatory necessity is a complicated and difficult affair. Stressing over the specifics of your cybersecurity practices is time consuming and will absolutely cost you time and productivity while you're trying to serve your clientele. Let Panurgy help you and take care of your IT services and network security needs. Our capable staff will keep your company's security and up to the standards that insurance companies and regulatory agencies put forth. You can focus on your job knowing the details of your IT support and service are being handled with complete solutions.
Our IT help desk support covers expertise in numerous different areas of business IT:
Network security including ransomware protection
Data backup and restoration
IT best practices and policies
Office 365 support and implementation
Cloud storage and cloud environments
Get Assistance from Experienced IT Professionals
We have the appropriate IT support tools and resources to help you when you and your staff encounter difficulties. With full managed IT services from Panurgy, you get access to an IT help desk that's prepared to aid you whenever necessary.
Long wait times for responses from an IT service provider are a huge bummer and a significant drain on time and even resources as you struggle with an IT crisis. Panurgy's team will be responsive to your needs and give you support you can trust without leaving you hanging. Whether you're dealing with a full blown disaster or simply need assistance with a minor software or hardware issue, Panurgy is here to help our clients with speedy, convenient service.
Don't settle for mediocre help! Talk to Panurgy and get learn how much better your IT help desk service can be when you partner with us. Our expertise covers all the IT needs your business might have and we're waiting to deliver high quality service to you whenever you're ready. Don't allow IT issues to plague your organization any longer. Instead, make Panurgy your IT help desk provider.
Schedule an appointment to discuss our comprehensive managed IT services today and let us address your specific concerns and needs. Don't wait! Call Panurgy now.