Did You Know That 91% of Successful Data Breaches Started with a Spear Phishing Attack?
Old-school security awareness training just doesn't hack it anymore. Today, your employees are frequently exposed to sophisticated phishing and ransomware attacks.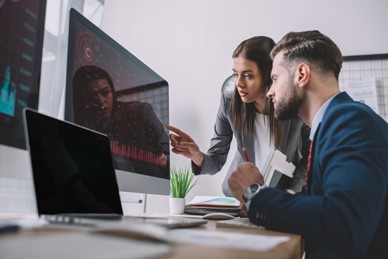 The Problem
Your employees are the weak link in your IT security chain. Social engineering is the number one security threat to any organization. The alarming growth in sophisticated cyberattacks makes this problem only worse, as cybercriminals go for the low-hanging fruit: employees. Numerous reports and white papers show U.S. organizations have been exposed to massive increases in the number of cyberattacks over the past five years.
The Solution
Panurgy is an authorized reseller of KnowBe4's Employee Security Awareness Training Program, which provides you with a comprehensive new-school approach that integrates baseline testing. The program uses mock attacks, engaging interactive web-based training, and continuous assessment through simulated phishing, vishing, and smishing attacks and ongoing employee awareness campaigns throughout. The program includes best practice reminders, practical tips and tricks, and newsletters explaining the latest threats, to build a more resilient and secure organization.
Overview
With world-class, user-friendly new-school Security Awareness Training, KnowBe4 gives you self-service enrollment, and both pre-and post-training phishing security tests that show you the percentage of end-users that are Phish-prone. KnowBe4's highly effective, frequent, random Phishing Security Tests provide several remedial options in case an employee falls for a simulated phishing attack.
Train Your Users. The world's largest library of security awareness training content, including interactive modules, videos, games, posters, newsletters, and automated training campaigns with scheduled reminder emails.

Phish Your Users. Best-in-class, fully automated simulated phishing attacks, hundreds of templates with unlimited usage, and community phishing templates.
See the Results. Enterprise-strength reporting, showing stats and graphs for both training and phishing, ready for management. Show the great ROI!
Contact Panurgy today and learn more about how to educate your employees on phishing scams and how you can improve the protection of your business from cybercriminals.
Call today to set up your free Phishing Security Test.